We fix stressed, damaged & over-processed hair
Go Blonder. Push the envelope further without compromising the integrity and health of your hair.  Is your hair cursed with a slight crunch and breaking as a result of constant bleaching? We can help your hair get back that angel soft fell and shine.
Know the Difference Between Hair Gloss and Hair Dye, Request Olaplex. 
If you color your hair, the current "it" service you should be asking your stylist about is Olaplex.
You see, hair color has levels, and once you get above level eight, damage starts to eat away at the bonds (disulfide bonds,) and amino acids that keep hair intact.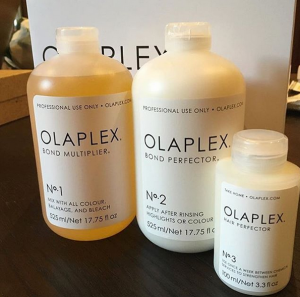 Is Olaplex a Conditioner?
It is important to remember that Olaplex is NOT a conditioner. Conditioners are cosmetic whereas Olaplex works internally to cross link single sulfur hydrogen bonds to create disulfide bonds. Moisture and protein are entirely separate issues that should be addressed separately.
Olaplex can be added into color, lightener, and relaxers to mitigate damage during the process. Olaplex is also entirely compatible with both perms and keratin smoothing treatments. Olaplex works on all hair types.
See all the love of #olaplex below!
[fts instagram instagram_id=olaplex type=hashtag]